Turn off Wi-Fi and Bluetooth
Some airlines let you fly with Apple Watch (and iPhone) turned on if you put them in Airplane Mode so they can't interfere with aircraft systems.Turning on Airplane Mode turns off both Wi-Fi and Bluetooth.
Ask Siri. "Turn on Airplane Mode."
Turn on Airplane Mode. Swipe up on the watch face, swipe to the Settings glance, then tap the Airplane Mode button
. When Airplane Mode is on, you'll see
at the top of the screen.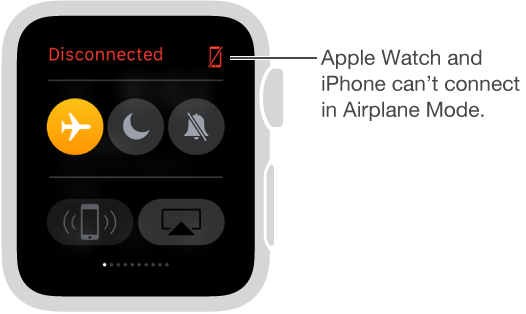 To place both Apple Watch and iPhone in Airplane Mode in one step, open the Apple Watch app on iPhone, tap My Watch, go to General > Airplane Mode, then turn on Mirror iPhone. Then, any time you switch to Airplane Mode on one device, the other will switch to match.
Note: Even with Mirror iPhone turned on, you must turn off Airplane Mode separately on iPhone and Apple Watch.